Answering a long RFP is a time consuming business. To make life easier for suppliers or vendors responding to RFx questionnaires, PostRFP is introducing a new feature which automatically saves answers as they are input, without having to submit a form and wait for the page to reload. This allows users to view a full page of all questions in a section, inputting answers, and having the new information saved each time they move between fields.
Currently, this feature is only available when proposal team Workflow is not enabled. Autosave answering will be integrated with workflow response management in a forthcoming release this autumn. 
To use auto save answering, click on a section title to view all questions in a section. Previously, this would produce a read only list of questions. Now, the questions contain input fields. Just type into the field as normal, and when you tab out or click in a new field the new information will be saved. 
To provide visual feedback as to what is going on, when a field (such as a text input box) is selected, the background color changes to yellow. When the field is exited, a little red dot appears to indicate that the contents of that field are being saved. Generally this dot appears and disappears so quickly that it can be difficult to spot it. If there is an error attempting to save a field a warning will be shown. So, in the absence of seeing such a warning it's safe to assume that the answer has been saved.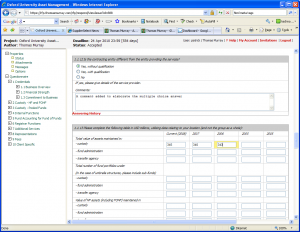 Screenshot of the autosave page. Click to view a full version.