Many consulting engagements involve vendor evaluation, tender or RFP projects. PostRFP has been used by consultants since its conception and this experience has strongly influenced its design.
PostRFP saves time and money, enabling fewer consultants to manage more projects. Online collaboration provides clients with real time insight into the vendor evaluation, helping to gain trust and strengthen relationships. In many cases, PostRFP enables consultants to develop new products and services such as industry benchmarking or ongoing vendor monitoring.
Efficient Knowledge Reuse

Clients may hire a consultant for their expertise in a specific purchase category. These specialist consultants tend to run similar RFP projects for different clients. PostRFP helps such consultants to maximise their reuse of knowledge and material between projects. RFPs are created online, and can be copied between projects or built up to form a structured library of RFP templates. Questions can be shared between projects, so RFP respondents can import their answers from previous projects. Where answers have already been scored, the scores are copied across in the background.
For large RFPs, the time savings in creating and evaluating RFPs is significant.
Each client engagement brings unique requirements so we make it easy to customize imported RFPs whilst maintaining linkage with previous versions. New sections, questions or criteria can be added to an RFP without affecting weighting or scoring calculations.
Rich RFP Questions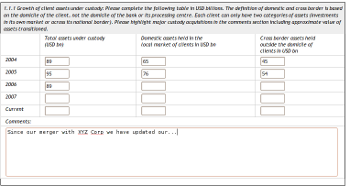 Most RFP management tools enforce a rigid question structure which struggles to support the richly structured RFPs that experienced consultants require. With PostRFP you can create questions of any layout and any combination of fields. These can then be structured into a hierarchy of sections and subsections, nested to any depth. This hierarchical structure supports a logical and flexible weighting model.
For sophisticated decision making PostRFP supports multiple weighting sets to reflect varying priorities of different stakeholders. Pairwise comparison tools provide an intuitive way for consultants to work with clients to set weights and priorities.
Benchmarking
Consultants issuing repeated RFPs in the same field accumulate a huge amount of data and knowledge about that sector. With PostRFP this knowledge can be leveraged to provide deeper insight for new evaluation or selection projects.
Vendors have a clear interest in seeing how they stack up against the competition. PostRFP can automatically generate showing how a single vendor rates against their peers.
Sometimes it's necessary to maintain standing data against vendors - e.g. for regulatory purposes. PostRFP facilitates this through the use of "Reference Projects". These are a special type of RFP projects where the vendors can update their data at any time - i.e. outside of the standard RFP issue/submit cycle. This enables vendors to maintain a standard set of RFP answers that can be re-used for each newly issued RFP.
Reference Projects work well in a benchmarking context because reports can be based on near real-time information.
Centralized, Audited Vendor Communication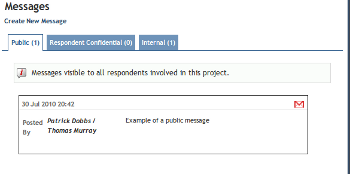 In a fair and transparent RFP process, all vendors should receive exactly the same information so the playing field is level. Each project in PostRFP has its own message board. When a vendor posts a question it can only be seen by the evaluation team. The evaluator can compose and answer and click "Reply to all Respondents", and the answer is visible to everyone. Automated email notifications keep everyone abreast of what's going on.
Accuracy and Time Saving
Scoring an RFP, whilst conceptually simple, can be prone to errors when collating information into spreadsheets. This is especially where there is a hierarchical questionnaire structure with multiple weighting sets and scoring sets.
Such minor details can have huge consequences, as seen in the U.K.'s West Coast Railways procurement fiasco.
PostRFP automates the calculation of total weighted scores by section and subsection to any nested depth. Scores can be recalculated against different users' scoring sets or against different weighting groups. Standard Deviation report make it easy to focus on the key criteria that are really distinguishing vendors.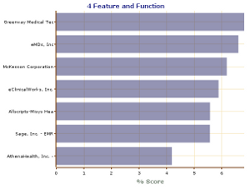 Working with Clients
Consultants often wish to provide clients with access to the RFP website. However, with most RFx software, this would involve granting the client access to all of the projects run by the rfp consultant - including those relating to other clients.
PostRFP addresses this via the concept of "Participants".
Each project in PostRFP has a list of Participants - these are organizations granted access to the evaluators side of a project. Each participant is granted a role which determines the permissions they have in that project.
RFP Consultant Directory
We are building a directory of consultants that support RFP, System Selection and vendor evaluation projects. We aim to make this a useful resource for buyers seeking support with their RFP projects. Contact us if we can improve your consultancy's record.
For further information read our case studies on consultants issuing RFPs or learn about PostRFP's functionality.
To access our demo site, or discuss running a project, please email us: consultants@supplierselect.com
Financial Services RFP Consultants
High volumes of custodian banking RFPs managed per year with SupplierSelect more...
Pensions Administration Review
Niche Consultant uses SupplierSelect to manage pension fund administration RFP more...
IT RFP Consultants
Specialist IT RFP consultancy uses SupplierSelect to help manage IT RFP projects more...
Medical Records EHR / EMR RFP Tools
EMR Match is a portal for managing Electronic Health Record (EHR) RFPs more...
Airline & Travel RFP Consultants
T2R uses SupplierSelect to manage Airline Reservations Systems RFPs on behalf of its clients more...
OJEU Tender Consultants
Public Sector Consultancy manages OJEU Tenders more...
Actuarial Consultants RFP Services
Actuarial consultant issues RFP with SupplierSelect for health plan review more...
Australian Government Procurement Consultants
Australian government consultant run vendor panel assessment via web tool more...
Xantive Housing
Social Housing procurement officers use SupplierSelect for tender management tool with EU compliance more...